You will get anxious if the circuit breaker of your house suddenly trips. In such a case, do not worry. Let us know how to get your power back.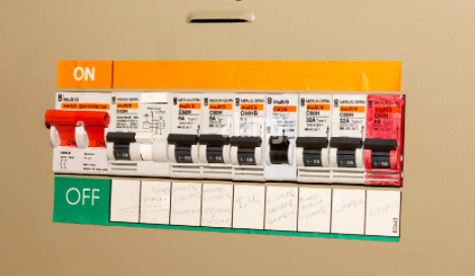 It is safe to reset the circuit breaker, yet better to take care of your own safety first. Keep your hands dry and do not touch any exposed wire. Make sure all the electrical appliances are OFF before resetting the breaker.
After locating the breaker box look for the breaker switch in the OFF position. Commonly, the OFF position will show a RED mark on the switch or the ON / OFF will be clearly marked on the board. Now flip the switch back to the OFF position. While doing so, you should feel some resistance. It should now restore the power.
After the breaker switch is reset to the ON position, you can one by one turn on the appliances. If power is fully restored, then you are done.
If the circuit breaker continues to trip, it means there is some complex problem in the circuit. The circuit breaker can trip for various reasons. It can be a short circuit, there may be an overload, a ground fault etc.
A short circuit is common, but it is risky. If a live wire touches the neutral wire, there will be a short circuit and it will generate heat. The circuit breaker automatically trips in such cases to prevent an electric fire.
In the event of an overload, there will be an excess flow of current and the circuit will not be able to handle it. To save the appliances, the circuit breaker will trip.
A ground fault occurs when the live wire and the ground wire touch a common metal box. This results in excess current flow in the circuit and the breaker trips. Only a qualified electrician can rectify such faults. Do not try to fix them yourself.